December 05, 2009 07:37 PM CET
PC Joker - Ausgabe 12/2003
Media Verlag
Autor:

LTC2

.
4625 Gelesen
PC Joker - Ausgabe 12/2003 Team Bewertung
Test:
Action:
Apocalyptica
Call of Duty
Freedom Fighters
Halo
Hidden & Dangerous 2
HDR:Die Rückkehr des Königs
Mac Griffin Bounty Hunter
Max Payne 2
Sinbad
Turok Evulution
Warhammer 40K: Fire Warrior
Worms 3D
XIII
Yager
Aufbausims:
Anstoß 4
Casino:Management
Piraten:Herrscher der Karibik
Railroad Tycoon
Railroad Pioneer
Space Colony
Vegas Tycoon
Sport:
FIFA Football 2004
NHL 2004
Pro Evulution Soccer 2004
Tiger Woods
Tony Hawk 4
Strategie:
Against Rome
Age of Mythology :Titans
Chicago 1930
Commandos 3
Empires: Die Neuzeit
Empire of Magic
Galactic Civilizations
Korea: Forgotten Conflict
Robin Hood: Defender of the Crown
Silent Storm
Adventures:
Silent Hill 3

Previews & Specials:
Lords of Everquest
Neverwinter Nights: Hordes of the Underdark
Spellforce

Lösungen:
Tipps & Tricks
Tomb Raider: Against Rome

Inhalt CD:
26 Vollversionen (Indiana Jack, 25 Actionminigames)


Ausgabe in Noten: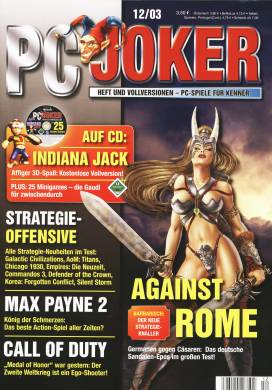 Cover: -
Übersichtlichkeit: -
Test, Previews, Specials: -
CD-Rom: -
Karrikatur: -
Verbesserrungen: -
Sonstiges -
Insgesamt: -
Pro und Contra:
---
Meinung:
Guter Ausgabe des MV Joker's.
Copyright © von Joker-Archiv.de
Alle Rechte vorbehalten.

Kategorie
:
PC Joker Media Verlag
Tags
: Keine
Bookmark
: