Pc Joker Media Verlag Sonderheft Trumpfgames
PC Joker Trumpfgames-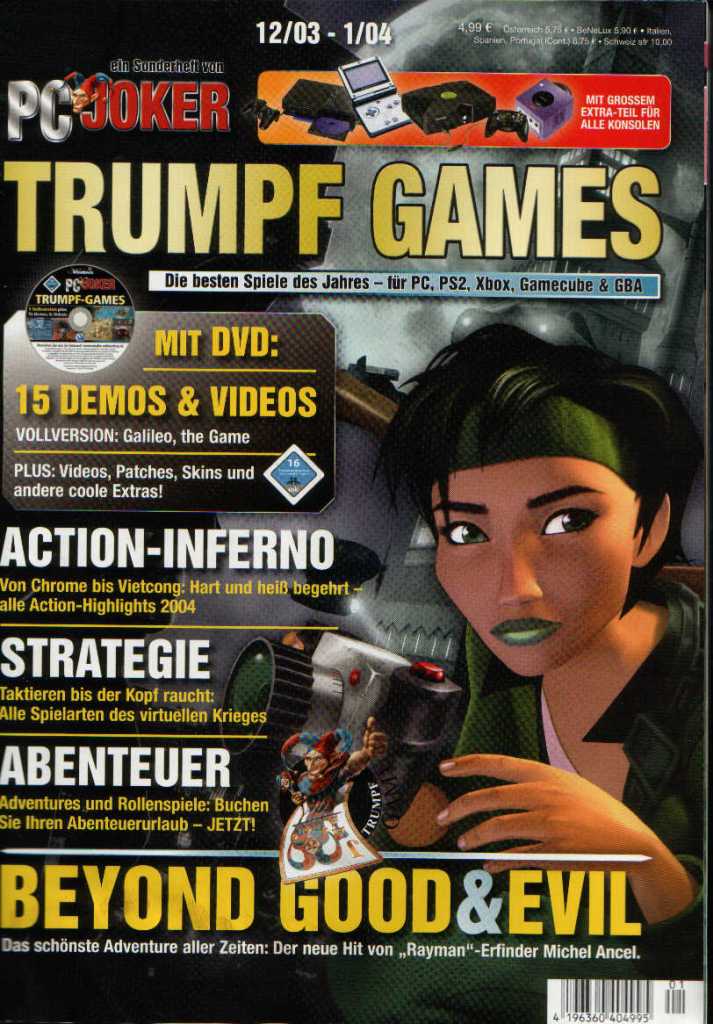 Inhalt:
Test:
Action:Call of Duty
Chrome
Cold Zero
Delta Force:BHD
Devastation
Enclave
Freedom Fighters
GTA:Vice City
HDR:Die Rückkehr des Königs
I.G.I2
Jedi Academy
Max Payne 2
Planetside
Rainbow Six:Raven Shield
Splinter Cell
Star Trek:Elite Force 2
Tron 2.0
Unreal 2
Vietcong
Rollenspiele:
Eve Online
Gothic 2:Die Nacht des Raben
Star Wars:Galaxies
Neverwinter Nights:Die Schatten von Undernzit
Temple of Elemental Evil
Rennspiele:
Collin McRae Rally 3
DTM Race Driver
Mercedes Benz World Racing
Need for Speed Underground
Trainz
Strategie:
Against Rome
Age of Mythology: Titans
American Conquest: Fight Back!
Blitzkrieg
Chicago 1930
Impossible Creatures
Medieval Total War: Viking Invasion
No Man's Land
Praetorians
Republic: The Revolution
Rise of Nations
Silent Storm
Warcraft: Frozen Throne
Aufbausims:
Casino Inc. Management
Ghost Master
Jurassic Park:Operaion Genesis
Railroad Tycoon 3
Restaurant Giga????½?a cnt
Sim City 4
Tropico 2
Adventures:
Fluch der Karibik
Indiana Jones & die Legende der Kaisergruft
Sportspiele:
Fifa 2004
NHL 2004
Pro Evolution Soccer
Tiger Woods 2004
World War 1

Videoreviews:
Advance Wars 2
Ape Escape 2
Beyond Good & Evil
Burnout 2
Castlevania: Aria of Sorrow
Colin McRae Rally 4
Crimson Skies
Dark Chronicle
Final Fantasy Tactics Advance
GoldenSun2
F-ZeroGX
Jak 2: Renegade
Jedi Knight 2: Outcast
Knights of the old Republic
Metroid Prime
Metal Gear Solid Substance
Mario Kart Doubledash
Mortal Combat:Deadly Alliance
NBA 2k3
Phantasy Star Online
Pokemon Rubin & Saphir
Projekt Gotham Racing
Racing Eveluzione
Resident Evil Zero
Shenmue2
Silent Hill 3
Sly Racoon
Socom:US Navy Seals
Soul Calibur 2
Super Maro Advance 4
Tenchu:Wrath of Heaven
Top Spin
Tony Hawk`s Pro Skateboarding 4
Virtual Fighter 4 Evulution
Wario World

Inhalt CD:
Vollversion: Galileo,the Game
Demo: Indiana Jones VI
Demo: XIII
Demo :Call of Duty
Weiteres: Patches, Skins, ...


Ausgabe in Noten:
Cover: 2 (Schön gemacht, sollte für das normale Heft in Teilen übernommen werden)
Übersichtlichkeit: 2 (Ist gut, wie immer eben.)
Test, Previews, Specials: 2 (Das ganze "Trumpfgames"-Testjahr plus Konsolencheck: Gute Mischung)
DVD-Rom: 2 (Haufenweise Demos, Videos, Patches und andere Gimmicks: Gut gefüllt und "Ab 16". Die Videos sind nicht DVD-Player geeignet)
Karrikatur: - (Gabs diesmal nicht - nur auf der DVD gabs die letzten Karrikaturen.)
Verbesserrungen: - (Keine Verbesserungen, weil es kein Vergleichsheft bis jetzt gibt)
Sonstiges 3 (Keine Karrikatur, teils beschnittene Tests, Fehler bei der Rubriken-Bennenung)
Insgesamt: 2
Pro und Contra:
+ Gut gefühlte DVD mit "16er"-Schildchen
+ Guter Videospiel-Teil
+ Wie gewöhnt gute Schreibe
+ schönes Cover
- Das meiste ist Stammlesern schon bekannt
- keine Karrikatur im Heft
Meinung von Cox:
"Die DVD ist neu für Stammleser"
Der Datenträger war diesmal eine DVD. Gespannt war ich, wie die DVD gefüllt wurde. Auf der "Ab 16"-DVD befanden sich Demos von Call of Duty (Ist doch "ab 18"!?), XIII und co. Die Videos waren offizielle Trailer. Diese waren aber nicht als MPEG2-Files (und damit DVD-Player geeignet) vorhanden, sondern im Quicktime-, Windows Media Player, etc -Format. Als Vollversion gabs das misserable Blackstar-Spiel "Galileo - The Game". In der Papierform des Hefts gabs es für Stammleser überwiegend bekannten Kram. Die mit mehr oder weniger mit dem "Trumpfgame" ausgezeichneten Spiele wurden teilweise beschnitten vorgestellt. Neu für PC Joker-Leser war der Konsolen-Testteil. Da viele der Redis ehemale Konsolentestchecker (viele waren bei "Maniac") sind, habe ich vertrauen auf deren Videospielerfahrung. Für nicht Stammleser ein gutes Testjahrbuch zu Weihanchten mit gutgefüllter "ab 16"-DVD für 4.99€. Alle anderen kennen 90% davon schon.